Note: This assignment was assigned and completed before the current COVID-19 pandemic.
How might we vaccinate the 2.2 million residents who reside within King County? 
Imagine if there was a contagious virus of epidemic proportions risking the health and safety of King County's population of 2.2 million people. Given a 4-week time frame, a vaccine must be administered to all residents—otherwise, people who come in contact with this virus will become fatally ill from this infectious disease. While these vaccines are oftentimes victims of their own success, many individuals are often skeptical of viruses, vaccinations, as well as government institutions or simply can't travel long distances.
• Address skeptics and cynics and build for trust
• Vaccinate 2.2 million residents in King County 
• Partner with a trusted company/organization
• Provide drive-thru and indoor vaccination sites which can accommodate a high volume or sudden increase in demand. 
• Create an outreach and public awareness program 
• Create a public awareness program
• Build infrastructure that meets these complex logistical demands  
• Create a mobile app that allows users to know where to get vaccinated,  schedule appointments, see virus hotspots, and know how to protect and care for themselves and loved ones
Category 
UX & UI Design, Advertising
Role
UX Research, Concepting, Prototyping 
Tools
Sketch, Illustrator, After Effects, Photoshop
______________________________________________________________
We had some basic questions that needed to be answered before we built anything. Less than half the population receives a flu shot annually and we needed to figure out what those barriers were. According to a study by the United States National Library of Medicine National Institutes of Health cost, access, safety, and perceived importance are the overarching reasons why people do not receive an annual flu shot. 
Of the individuals who do not receive flu shots, 7.7% say that vaccines are too expensive. 44.9% stated that they "do not have time to get a flu vaccination" and 9.5% stated they "do not know where to receive a flu vaccination." 49.9% said that they think they could "actually get the flu they were to get a flu shot" and 30% said they believed that "vaccines may have dangerous side effects". 10% were "not informed that flu vaccines might be important" and almost 29% said that "I do not believe I am in danger of contracting the flu" and 9.1% said that they "do not believe in vaccines for religious or cultural reasons".
Through our research, we also found that the most at-risk populations tend to be men, people of color, as well as low-income populations who don't have the same access to healthcare as more fortunate populations
While there are several logistical reasons why individuals do not receive flu shots, there is a reluctance that is rooted in psychological and cultural behaviors as well. A recent New York Times article states that the "vaccine's success" is partly to blame for people's reluctance. People largely forget about the major epidemics that used to wipe out large portions of the population such as small-pox. We also live in an individualist society where people feel as if their decisions are their own to make but fail to realize that not being vaccinated could result in someone else getting seriously ill. Also, there is a concept called "omission bias". It's this idea where people would rather not do something and have something bad happen than do something and have something bad happen.
We distilled our research down into four key reasons as to why people do not receive flu shots: distrust in government and pharmaceutical companies, inability to travel to a vaccination site, forg

etfulne

ss and or busyness, and lack of awareness. We used this information to build out four personas that represent a broad swath of the vaccine resistant population.
There is a large part of the population that is distrustful or highly skeptical of federal and local government and pharmaceutical companies. This is why we believed it was essential to partner with a trusted brand that is deeply rooted in the Puget Sound region. Bartell Drugs has a tradition of providing health services at over 54 locations throughout King County. While the state and local government would be funding vaccines, Bartells would be the public-facing partner of the holistic campaign and service.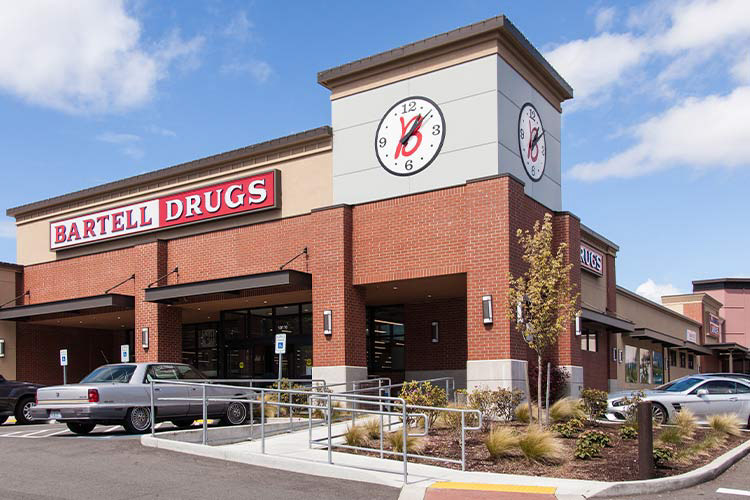 ______________________________________________________________
The constraints of the brief stated that this is a flu outbreak of epidemic proportions, so  providing vaccines to the greatest number of people in the shortest amount of time was essential. Given our 4-week time frame, we found that it was essential to implement a multi-pronged approach to this problem.
Our goal was to reach out to specific segments of the population, specifically, schools, businesses, and people experiencing  homelessness. We also provided two ways to receive vaccines at each Bartell Drugs location: walk-in scheduled appointments or spontaneous walk-up and drive-thru options. 
Below is a breakdown of how we planned on providing vaccines to each segment
Public Schools in King County
16% of population
There are 494 public schools throughout King Countyand roughly 369,000 school-aged children or approximately  ~850 children at each school. If a doctor was administering a vaccine at each school location, utilizing the existing infrastructure, every 10 minutes for 7 hours a day for 20 days (5 days a week), we would be able to reach a 100% success rate within the group making up for a total of 16% of the total vaccinations throughout King County.
Business Districts 
Doctors would be sent out to 184 business district locations throughout King County to administer vaccines. Utilizing existing infrastructure, such as an empty office, 220,000 vaccines in 20 days (5 days a week at 10 hours a day) would be given. 
Homeless Locations 
.05% of population 
Although a smaller segment of the population, those who are experiencing homelessness are some of the most vulnerable. As mentioned with our persona above, the homeless are largely immobile and are at greatest risk of getting sick. Therefore we would be dispatching six "blood drive" like busses to areas that have a high population density and would be providing vaccinations every 10 minutes, for 10 hours a day for 4 weeks which would result in a 100% success amongst this population and .05% of the total King County population.
Bartell Drugs — Scheduled & Walk-Up Appointments

9% of population 
Next, we want individuals to have the ability to schedule a vaccination appointment through the mobile app. We want to also provide an opportunity for those who did not schedule an appointment to be able to just walk in and get a vaccination. So, there would be two separate rooms to accommodate both instances. Bartell Drugs is open from 9 am-8 pm every day and Bartells would be able to provide two vaccinations every 10 minutes. Over 4 weeks we would be able to provide a little less than 200,000 vaccinations amongst the 54 Bartell Drug locations resulting in 9% of the total King County population.
Bartell Drugs — Scheduled Drive-thru Vaccinations 
5% of population 
To create a healthy distancing, for those who may be sick already, we wanted to provide a drive-thru option. Not all the Bartell locations have a drive-up pharmacy window. And, this process is a little slower and would not be able to accommodate appointments. This aspect of the design would be able to provide a little less than 100,000 vaccinations resulting in 5% of total vaccinations countywide.
______________________________________________________________
We built our personas and customer journey map based on our research which in turn drove what drove the main features of our app which include appointment scheduling, outreach services, a contract tracing map, and educational information for caring and protecting loved ones. 
Feature 1 — Appointment Scheduling 
We took our features to the whiteboard and began listing everything we wanted to include under main features. The Primary feature we wanted to tackle was appointment scheduling. Using location services or zip code entry users would have the ability to find a Bartell Drug location nearest them. A map would appear with 3-4 locations in their area. This would give the user the ability to look at high and low traffic times during specific days based on cell phone data. Below would be a "Schedule Appointment" button which would take the user to another screen, allowing them to select the number of patients they would like vaccinated and the times of day appointments would be available. If unable to find a time that works, the user would simply be able to swipe left or right to find another day. If they wanted to choose another location the user would have to click the "back to map" button in the top right corner. Upon selecting a time slot the user would then enter the on-boarding process by entering the patient's name and phone number. Upon selecting the "confirm" button the user would then receive a confirmation number along with information on how to prepare for the visit. An automated message would be sent 30 minutes before the appointment. 
After the vaccination, the user would then be congratulated, could share their experience with friends and family, and would then receive a $10 voucher to use at any Bartell Drugs store.
Our outreach program would target areas with high concentrations of individuals experiencing homelessness, business districts, as well as public schools. 
The user would have the ability to enter their area code to see if their school or business is participating. If unable to find their school or business they would have the ability to "Invite us" to administer vaccines at their school or business. Through this process, the user would answer some basic logistical questions. The form would then be submitted to a Bartells Drug board for review. 
If the user found their school or business after typing their area code they would simply be able to schedule an appointment and go through the same on-boarding process seen in the previous user-flow.
The "stats" section would cover four important areas: basic information about the flu, how to care for loved ones, how to stay healthy, and contact tracing data. 
Through our research, we found there was a tremendous amount of scattered data and resources, so we wanted to bring all of that under one roof and provide simplified and unbiased facts to the table.
Lastly, we wanted to provide a live heat map of King County.
_________________________________________

_____________________
"Fewer stats, more stories" — Wired
Although statistics are hard to refute, they don't move people to do something for the greater good. The thing about vaccinations is that you are not only protecting yourself, but you are also protecting others. In the United States, we are ingrained with this idea that it is best to only look out for yourself. We needed to create a campaign that appealed to people's social responsibility. So, I began thinking; it would be terrible if I were to get the flu but I would feel way worse if I got the flu and then passed it on to someone else. So, we created the "Unsung Hero" campaign which features people from all walks of life. The goal for this campaign is to stir emotion and a call to action on the individual for the greater good of society.
_________________________________________

_____________________
Administering 2.2 million vaccines in 4 weeks is a major feat. The Center for Disease Control and Prevention considers a 70% vaccination rate to be a success. While we would aim for a 100% vaccination rate we realize that would be impossible to achieve given some people's reluctance and refusal. Assuming that other business and doctor's offices would be administering vaccines simultaneously, we would be set up to provide over 900,000 (40%) vaccinations to King County residents through our multi-pronged approach of on-site and outreach vaccinations. 
​​​​​​​
When building this project in Autumn 2019, the current COVID-19 pandemic did not exist. While influenza has nothing to do with COVID-19, the pandemic our local, state, and the federal government is currently dealing with is at the level of urgency we built our project around on. Many things were not considered. The idea of people not being able to go back to work for months or the fact our government would not have testing or vaccines that we are in desperate need of were desperately needed would have seemed too unrealistic and extreme.
It's been great to compare our work in real-time. Building in social distancing measures at the Bartell Drug locations, providing hand sanitizer at the entrance, creating scheduled appointments, providing drive-thru vaccinations, and building a live contact tracing map are all things that are happening now.